FREE Lundberg Letter: LL 03/13/2019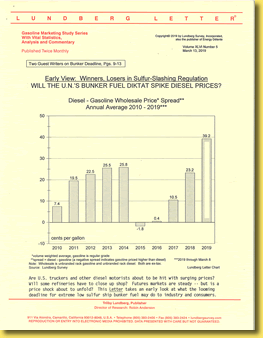 Early View: Winners, Losers in Sulfur-Slashing Regulation
WILL THE U.N.'S BUNKER FUEL DIKTAT SPIKE DIESEL PRICES?
Many fuel jobbers and retailers are unaware of this issue looming on the near horizon. But globally in various special circles including refiners, shippers, and international strategists and analysts, the debates are raging. About supply and quality of the new fuel, among other urgent questions.
Deadline for an extreme shift to lower sulfur in ship fuel is January 1, 2020, just nine months away.